Our Staff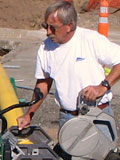 Jar Mellem
CEO, Design and Construction

Jar received his bachelor's degree from the University of Santa Barbara. Additional training was completed with both NACE and Westec in Cathodic Protection. He was responsible for overseeing the conduction of over 8,000 miles of main and over half a million services for scheduled Gas Leak Surveys. Jar's current role involves over-seeing all phases of pipeline design and construction in both National and International arenas.
Ralph Smith
Vice President, Operations

Ralph is an alumnus of Long Beach State. He has been involved in marketing and sales for the past 25 years. As JARSCO's Operator Qualification instructor, he trains, tests and qualifies Master Meter Operators and their employees to run their gas systems. Ralph also handles bidding, scheduling, surveying, compliance and construction.
Joy Rossman
Vice President, Publishing

Joy earned her bachelor's and master's degrees from UCLA. Joy has thirty years of experience in the gas utility industry. She has been the principle driving force behind the formation and evolution of our Operator Qualification Program. Joy was involved in the publication of our advanced Gas Leak Survey Manual. She currently oversees and updates over 300 individual operation, maintenance and emergency plans for gas system operators in eight states.