Cathodic Protection
Depending on your viewpoint, cathodic protection is either the art or science of applying a small amount of electricity to a gas line to keep it from corroding. The source of this electricity will determine if the cathodic protection is an impressed (rectifier) or sacrificial (anodes) system.
Federal regulations require that all underground steel gas piping that was installed after July 31, 1971 must achieve and maintain adequate levels of cathodic protection.
However, in the past few years it has become more and more apparent that aside from the regulatory requirements, cathodic protection provides a financial advantage by significantly extending the life of a steel piping system.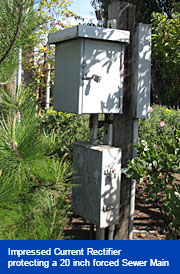 Our Services
JARSCO has been a member of NACE since 1981. Since then, we have been involved in all aspects of cathodic protection design, installation, troubleshooting, and monitoring.
Individual Services Include:
Impressed Current System Design & Installation
Sacrificial System Upgrades
Annual Soil-to-Pipe Reports
Compliance Reports for Escrow
System Troubleshooting
Operator Qualification Training